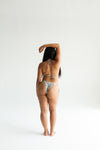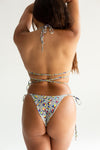 Necessary staple suit!
Super comfy and I love the crossing tie that is super trendy right now!
I love to pair this with different colored bottoms making it very versatile! && you cant beat the fabric quality!!
Love love love!
Love these bottoms so much!! They match all my swimsuits and I love that I can match any Jilaine Swim top with them :) versatile and supportive fabric!